Facilities Management Software
Fieldteam's workflow management software solution will make running your business, and maintaining your sites as easy as possible. Our software has been designed to ensure YOU can get the job done easily, quickly and error free.
Some of the features the fieldteam management software that will provide benefits for you are:-
Site Management
Fieldteam's Site management modules will allow you to track your individual sites and assets stored in them. Every time a job is done on a site, it is automatically associated with the site, ensuring you have a full work history. You can also store documents and notes along with all of your sites ensuring you'll never be left without access instructions, or a manual for boiler down in the basement again.
Asset Management
The Fieldteam software also has asset management build in as well, which will help any facilities manager to locate their assets with only a simple search. Along with the assets current location, you can also store documents and pictures with it, as well as leave notes as well. Also asset history is logged so you'll know where it's been and for how long. Fieldteam's software also allows you to put in your first usage date's so you know how long the item has been around - and if it's still under warranty etc, this feature along will save you thousands over the long run.
Inventory Management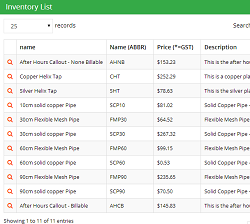 With the Fieldteam complete workflow management software, you'll never have to worry about your inventory again. Not only do you have full access to your inventory, you can even mark stock levels, and at what locations, weather it is the storage garage downstairs, or one of your workers trucks.
You'll always know how much you have, and of what. You'll also be able to use the inventory items on the job which will using an item from your stock, meaning the system will also help manage your inventory as you go as well.
Job Management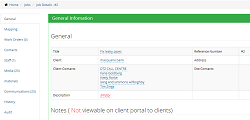 The Fieldteam job management system is some of the most advanced software you'll be able to find. The software is highly flexible and will cover almost anything you need to do. Some of the features of the Job system inside Fieldteam are:-

Attach Clients to Jobs
Site, job and client contact details
Site notes, job notes
Attach Pictures video and audio while on the job
Easily add Inventory items used on the job
Schedule more work or quotes on the spot
Automatically Track hours on site
Custom Reporting - put in any reports or forms you need
On the Spot invoicing Where needed
Send clients report emails with videos and images
Staff get job details straight to their phones
no more site visits, just record a video or take pictures
These are only some of the main features you'll find in the job module of the Fieldteam system. With the Video and picture in your jobs, if a field worker is having issues onsite, all they need to do is take a picture or record a video, and it gets uploaded to the Fieldteam servers, meaning you can take a look at it a few minutes later - meaning you no longer have to take a 2 hour round trip across town to look at a problem in person.
Risk Free 30 day Fieldteam Trial - no hidden fees, no headaches
Get full access to fieldteam and the mobile applications for 30 days. No credit cards or payments needed during the trial period.
Limited Time Offer: Free Training with all Trials Until 15/08/2022
Quote Management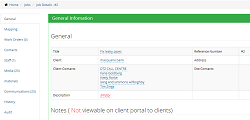 The Fieldteam Quote system is similar to the job system, however there are some differences to ensure you'll get the maximum benefit from the system. One of the ability to accept a quote, and turn it into a job, this marks the quote as accepted, and then copies all the data into a job for you, ensuring you keep the original quote data in the system in case your client tries to make claims. You also have the ability to mail the quote to your clients ensuring they have all the data available to accept the quote.
Client Portal
The Fieldteam Client portal is software that has been written for your clients to access. You give them a username and password, and they can log in and see the status of their current job's and quotes, and also look up previous ones. This alone will save you hours of office work every week. On top of this your clients can also request work to be done via the client portal as well. When they put in a job request, it goes into the Fieldteam system as a Pending Quote, and your admin staff will get notified that there is a quote waiting. If the client adds pictures in as well - you won't even have to visit site to give them your quote price.
Onsite Invoicing
The mobile application has the ability for a client to sign off on the work done onsite. This means once it is signed off, the field worker can issue an invoice for you. If you want to attach images or reports to your invoice, you can do that with the Fieldteam backend system software. You can attach images, videos, audio and your PDF reports for the job ensuring you are always giving your clients the best information possible.
Custom Reports
Fieldteam has the ability for you to create reports for your jobs and quotes. These reports can be made to duplication any paper work you current have. This means you no longer have to carry reams of paper around and fill it out on site, then physically take it back to the Office. You can make safety reports, swms reports etc. If you need to fill out forms on site, the Fieldteam mobile application can handle it for you on the spot.
This is only the start of your benefits with Fieldteam
There are hundreds of other features in Fieldteam that will help your business run. If you would like to try out the Fieldteam software please fill in the form below and we'll get you up and running quickly, Otherwise you can call us on 1300-000-369 and we'll answer any question you may have.
Risk Free 30 day Fieldteam Trial - no hidden fees, no headaches
Get full access to fieldteam and the mobile applications for 30 days. No credit cards or payments needed during the trial period.
Limited Time Offer: Free Training with all Trials Until 15/08/2022